Starting a Vacation Rental Business: 7 Keys To Success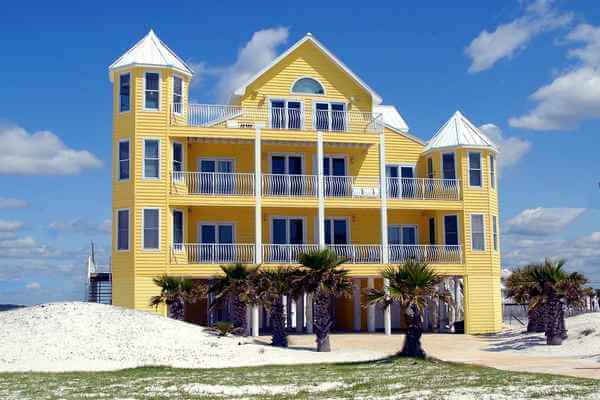 This is a guest post - the author bio is at the bottom of the article.
Updated on October 27th, 2022
For years the vacation rental industry has been one of the most popular forms of passive income to lean on. Throughout the pandemic, the industry has become even more saturated. With a new influx of rental properties popping up, combined with the changing national and local travel guidelines, getting into the industry has become increasingly difficult. Using this guide, you will be able to effectively break into the vacation rental industry and start turning an income soon.
The average startup venture will not turn a profit until three years into the business, so patience is key. Luckily, the vacation rental industry can be lucrative right when you are starting out. Having a plan and being prepared will help you to maximize your success, all while having fun running your own passive business.
Decide What Type of Vacation Rental Properties You Want to Invest In
The type of vacation home you rent out will directly dictate the type of business you will run. If you already have properties to rent out, then you're all set, but if you need to purchase properties, think about what types of trends you want to cash-in on.

No matter where you live in the U.S., you should be able to use your location to your advantage. Your location will impact the type of vacation property you rent out.

For example, if you're located in the Northeast Shores of Maine, then you likely would want to purchase small cottage-type rental properties, as they are very popular in the New England area. You would not do the same thing if you were looking to rent out properties in Miami. Using your location to your advantage should be the first thing you do when deciding what type of property you want to own.

After deciding what type of home you want to rent (beach home, cabin, regular house, etc.,) you should try to pair it with some sort of local experiences or trends. As an alternative lodging option, guests will be looking for a more ingrained experience over a hotel. Using your local expertise to market your property for niche consumers will only help make you stand out from the commercial competition.
---
PRO-TIP: Get a 4.95% APY savings account at FDIC insured CIT

---
Some common niche travel trends to look into capitalizing on are:
Minimalistic Travel – Through the pandemic, and likely after it, Millennials and younger adults alike have taken to a more minimalistic way of traveling. RV rentals have become commonplace for travelers who don't want to be tethered to a resort or overpriced hotel room. While you may not have an RV to rent out, making and presenting your vacation rental as a minimalistic experience could capture some of the millennial demographic.
Adventure Based Travel – Somewhat similar to the RV and minimalistic angle, more and more travelers are looking for alternative lodging options near national parks, mountains, and other scenic areas of the U.S. If you happen to live near a natural attraction, use it to your advantage when selecting properties or when updating your existing properties for rentals.
Family/Friend Retreats – Traditional lodging options, such as hotels, are not the best option when you are trying to plan a family reunion or a get away with a lot of friends. Having separate rooms throughout a large building does not bring everyone together as much as it could. If you happen to have a larger home or lodge, you can use this for larger family vacations and retreats.
Take the time to think through local resources and advantages you already have when coming up with the type of rental business you want to lead. You can create curated adventures based on the local tourist spots.
Conduct Industry Specific Research
After knowing where and what type of vacation rental business you want to lead, it's time to dive in and do some general and niche industry research. The travel industry, especially the alternative travel space, has a lot of rules and regulations to keep both guests and hosts safe. Before you do anything else it would be wise to brush up on both national and local regulations for short-term rental owners.
Looking at Maine again, you can see that the state has sweeping regulations to guide all property owners, but some cities will even have their own regulations, such as Portland, Maine. Additionally, both New York City and Miami Beach heavily fine owners who violate their strict short term rental laws, so before purchasing a rental property in any town or city, make sure the local laws allow for it.
Insurance and Property Costs
Besides needing to brush up on all the rules and regulations that guide the short-term rental industry, you need to also take the time to learn the ins and outs of the financial and legal aspects of the industry. Knowing average property costs, insurance rates, and tax information will be crucial when you're just starting out.

For property and insurance costs, you'll need to do some local research, but beware, the market has been extremely volatile and hard to predict since the pandemic. In some states, houses are selling at all-time high values, while in others, homeowners are scrambling to sell their homes below market value. It would be wise to do as much local research as you can to see what the market is like in your local and surrounding areas. Using this housing heat map will help you at least see how each state compares to another right now, in regards to housing prices.

Insurance is a bit trickier of a topic to discuss for rental owners. If you decide to host your property on either Airbnb or Vrbo, then you'll qualify for their own rental insurance coverage. These packages are tailor-made to fit your rental property, but will not always cover everything. You can roll in existing homeowners insurance to cover any additional areas of the home that may not be covered.

If you decide to fly solo and not use one of the two largest rental portal companies, then you will be on your own to find rental insurance. Recently, with the short-term rental industry gaining traction, more insurance companies are beginning to offer packages to cover short-term rental properties. Larger companies such as Nationwide, Allstate, and Farmers all offer vacation rental insurance packages for hosts. If you already happen to be insured by one of these companies, it may be worth looking into adding on additional coverage.
Just so you know, rental insurance will be close to two times more expensive than homeowners insurance with the average rate being around $3,000 annually.
How to Run Your Vacation Rental like a Business: Market Data and Analytics
After breaking down the type of rental property you want to own and knowing everything about local laws and regulations, it's time to look more into industry data to see what you can learn before starting your business. Market and industry data can be very telling. Oftentimes, marketers use industry data to visualize the opportunities and threats to their business and subsequently, the industry they're in.

First, it would be good to know some common financial numbers about the overarching short-term rental industry. As someone new to the industry, learn about average demand, average rates, vacancy rates, and cancellation rates. Knowing the average for these numbers, or at least how these numbers are trending, will help you evaluate how your business will do when you get it off the ground.
For example, let's say room demand rates are falling rapidly, your business would need to adjust elsewhere to compensate for the lack of demand. You could adjust pricing, run a promotion, or shore up expenses, but without following market trends, you would never know your company was about to start lagging behind.
As you come closer to starting your journey in owning vacation properties, take the time to read through as much industry data as you can. AirDNA is one of the industry leaders that puts out monthly reports at the end of each month giving an overview of how the industry is performing and what to expect in the future. In their latest report, they mention that with school returning, hosts should expect to see a dip in bookings. Using these reports to guide your business will help you find success early on.
Establish a Vacation Rental Business Plan
Even though you will likely use your rental properties as more of a passive income stream, it's still important to lay out a business plan to guide you along the way. A business plan is an overarching document that details every aspect of your business. Let's take a look at everything a business plan should include, and then we will highlight some of the most important sections to focus on for your business.
Each business plan will be made up of eight to nine sections. These sections usually include:
● Executive Summary – Usually written last, the executive summary is a brief but hyper-focused summary of your business plan.
● Company Description – Use this section to dive into more detail about your company. List what types of problems your business is going to solve and how. Explain what your business will bring to the industry that others haven't.
● Organizational Structure – This section will detail the legal structure of your business. As a rental property owner, you likely will be establishing your business as a sole proprietorship. For rental property owners that have larger aspirations, an LLC may be the route to take for legal protections.
● Market Analysis – Knowing industry trends and doing some competitive analysis will help you know who to target, how to target them, and when to do it.
---
PRO-TIP: If you are US based, trade cryptocurrency and want to avoid the tax hassle see the Alto Crypto IRA. They support 150+ coins, there are no monthly or annual fees, no LLC setup fees, no processing fees, and they charge only 1% on each trade. Any cash waiting in your account is insured by the FDIC.
---
● Service or Product Description – For other businesses, this section would take longer, but for a rental company, the product or service is the room you provide. Don't forget to include any additional services you may offer (tours, cleaning services, taxi services, etc.).
● Marketing Plan – In this section, you'll want to list how you plan to promote your business. Be sure to include things like your brand name, logo, website and social channels, and sales prices.
● Funding Request – Depending on your situation, you may need additional funding to start your rental business. If this is the case, the funding request section of your business plan should list out exactly how much you need and why.
● Financial Projections – The last section of your business plan should lay out all of the financial projections for your business. If you haven't owned a business before, or if your accounting skills are rusty, use this financial projections template to help you get started.
Decorate the Vacation Property
Now that you have taken care of some of the more dry, mundane tasks that are required to get your vacation business off the ground, you get to have some fun. Decorating your rental property to make it alluring to whatever types of guests you are trying to attract will be extremely important.

The decor you choose for your rental properties should provide a theme or certain feeling that is associated with each property. For instance, if you are trying to rent out a seven-room beach house in Myrtle Beach, you'll likely want to decorate with nautical, family-friendly furniture. If you offer more of an adult experience, say a one-bedroom cabin in the Pocono Mountains, then you'll want to buy more cottagecore inspired furnishings that give your property more of a romantic feeling.

No matter what type of property you rent, it would be wise to invest in some sort of entertainment to have at the house. Even in the most outdoorsy areas of the U.S., guests appreciate having the option to sit by a fire in their cabin, or take a dip in the pool (if available). If you already have property but need to spruce it up, consider looking into personal funding options to help make whatever purchases or updates you need. Some of the top amenities travelers are looking for include: pet-friendly spaces, pool, jacuzzi tub, game room, and a balcony.

If you need some help, there are plenty of interior designers and resources across the web available. Checking in on the newest decor trends within your niche community will help you get on your way to creating an amazing themed experience.
Lean on Rental Technology
As a solo-business owner, leaning on technology will help you efficiently complete more tasks. You will be able to automate specific tasks and get more visibility online through booking portals and listing sites. This is going to be one of the final steps to take before you can start making money with your rental properties.

For short-term rental owners, there are a ton of booking platforms available to use, but make sure you choose the best platform for you. The two biggest sites, Airbnb and Vrbo, allow users to host on their sites and other sites, so I would definitely start there. Both services have different sets of fees, commissions, and regulations that can impact hosts. Brush up on the main differences between the platforms here.

Outside of the main hosting sites, you should try to build a basic website that shows off your property and allows guests to book online. Just like with Airbnb and Vrbo, each vacation booking platform will have its own sets of fees and commissions that they'll take from each booking.

Once you have your rental properties listed on these booking platforms, you're ready to start hosting guests. Be sure to remain active on social media to let people know about your new venture!
Summary
As you look to enter into the vacation rental industry, remember that right now, the market is still feeling the impacts of the pandemic. Experts predict the market will bounce back, but expect some hurdles and bumps along the way.
Success will not happen overnight, but with some elbow grease and hard work, your rental properties will be bringing in an income before you know it.
---
Free Investing Tools
Empower offers free tools to keep track of all your accounts. An innovative way to use the tool is to sign up your senior citizen parents if they have been scammed in the past so you can have a second set of eyes on their accounts.
For advanced traders who want direct access to exchanges without "payment for order flow" shenanigans a la Robinhood, choose Interactive Brokers.
I use Axos Bank for its no-fee business account with free bill pay.
When it comes to crypto trading, Phemex is king (read why here).
---